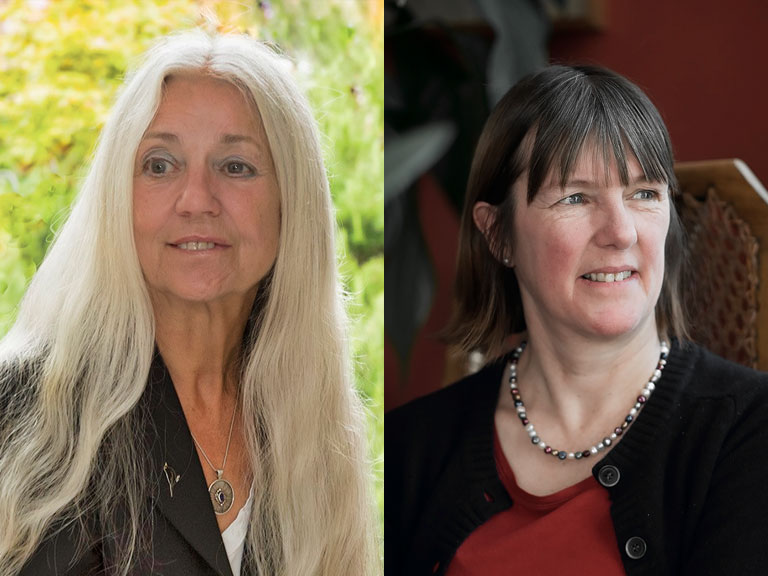 Paula Meehan &
Kathleen Jamie
Paula Meehan & Kathleen Jamie
Available here from 7.0

0

pm
readings will automatically load at the scheduled time. if your browser is having difficulties, simply reload the page.
Paula Meehan was born in 1955 in Dublin, where she still lives. She studied at Trinity College, Dublin, and at Eastern Washington University in the United States. She has published seven collections of poetry, most recently a selected poems, As If By (The Dedalus Press, 2020). She has moderated workshops in the community, in the prisons, in recovery programmes and has worked extensively with emerging poets inside and outside the universities. Her work has been translated into French, German, Galician, Italian, Japanese, Estonian, Portuguese, Spanish, Greek, Chinese, Dutch and Irish. She was Ireland Professor of Poetry from 2013 to 2016, and her public lectures from these years, Imaginary Bonnets with Real Bees in Them, was published by UCD Press in 2016.
Kathleen Jamie was born in the West of Scotland in 1962. She is the author of ten collections of poems, most recently The Tree House (Picador, 2004: winner of the Forward Prize and Scottish Book of the Year), Mr and Mrs Scotland Are Dead: Poems 1980-94 (Bloodaxe Books, 2002: shortlisted for the 2003 International Griffin Prize), The Overhaul (Picador, 2012: shortlisted for the 2012 T. S. Eliot Prize, winner of the 2012 Costa Poetry Award), and The Bonniest Companie (Picador, 2015). Her non-fiction work includes Among Muslims (Sort of Books, 2002), Findings (Sort of Books, 2007)  Sightlines (Sort of Books, 2012: joint winner with Robert McFarlane of the 2013 Dolman Travel Award, winner of 2014 John Burroughs Award and the 2014 Orion Book Award) and Surfacing (Sort of Books, 2019). In 2017, she received the Ness Award from the Royal Geographical Society for "outstanding creative writing at the confluence of travel, nature and culture." She is the Scottish Editor of Irish Pages, and lives with her family in Fife.