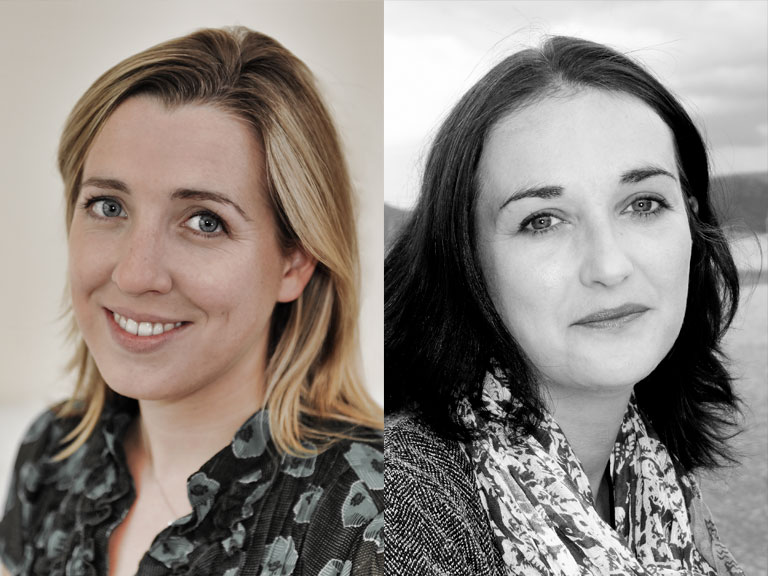 Ailbhe Ní Ghearbhuigh &
Catriona Lexy Chaimbeul
Ailbhe Ní Ghearbhuigh & Catriona Lexy Chaimbeul
Available here from 2.0

0

pm
readings will automatically load at the scheduled time. if your browser is having difficulties, simply reload the page.
Rugadh Ailbhe Ní Ghearbhuigh i dTrá Lí, Co. Chiarraí sa bhliain 1984 agus fuair sí a cuid oideachais trí Ghaeilge. Is céimí de chuid OÉ, An Ghaillimh í, áit ar bhain sí amach a céimeanna BA, MA agus PhD. Tar éis tréimhsí ag staidéar agus ag múineadh sa Fhrainc, chaith sí bliain i Nua Eabhrac ar Scóláireacht Fulbright. Tá sí anois ina Léachtóir le NuaGhaeilge ag Ollscoil OÉ, Corcaigh.
I measc na leabhar uaithi tá Péacadh (Coiscéim, 2008) agus Tost agus Allagar (Coiscéim, 2016), an dara cheann acu siúd ag baint amach Duais Michael Hartnett 2019. D'fhoilsigh The Gallery Press a cnuasach dátheangach The Coast Road (2016) le haistriúcháín Bhéarla ó 13 file. D'fhoilsigh Cois Life a haistriúcháin ó Fhraincis Andrée Chedid sa bhliain 2019 mar chuid den tsraith "File ar Fhile". Bronnadh Duais  Lawrence O'Shaughnessy uirthi i 2020.
Ailbhe Ní Ghearbhuigh was born in Tralee, Co Kerry in 1984 and was educated through Irish. She is a graduate of NUI Galway where she completed BA, MA and PhD degrees. Having spent periods studying and teaching in France, she spent a year in New York on a Fulbright Scholarship. She is now Lecturer in Modern Irish at University College Cork.
Her books include Péacadh (Coiscéim, 2008), Tost agus Allagar (Coiscéim, 2016), the latter winning the Michael Harnett Award in 2019. The Gallery Press published a bilingual collection The Coast Road (2016) which included English translations by 13 poets. Cois Life published her translations from the French of Andrée Chedid in 2019, as part of the "File ar Fhile" series. She was the 2020 recipient of the Lawrence O'Shaughnessy Award.
Rugadh Catrìona Lexy Chaimbeul ann an 1982 ann an Leòdhas ach chuir i seachad mòran de a beatha ann am Ploc Loch Aillse. Tha i ag obair na neach-ealain taigh-chluiche, na h-actair agus na sgrìobhadair airson grunn bhliadhnaichean, gu sònraichte anns a' Ghàidhlig dhùthchasaich aice. Tha i air còig nobhailean fhoillseachadh, grunn dàn agus dà dhealbh-chluich, Doras Dùinte (2014) agus Shrapnel: The Play. An 2011, b' i a' chiad neach-ealain Gàidhlig a chaidh fhastadh aig Taigh-cluiche Nàiseanta na h-Alba. San Dùbhlachd 2012 chraoladh a' chiad dealbh-chluich rèidio aice leis a' BhBC, stèidhichte air an nobhail aice  Samhraidhean Dìomhair. Bha i na sgrìobhadair còmhnaidh aig Sabhal Mòr Ostaig ann an 2013. Chuireadh  Doras Dùinte air an àrd-ùrlar le Theatre Galore agus chaidh i air chuairt ann an 2014. Ann an 2015, rinn i dràma a-mach à Shrapnel, nobhail a h-athar, Tormod Caimbeul,  (Theatre Gu Leòr, 2016), a chaidh air chuairt air feadh na h-Alba ann an 2016. O chionn ghoirid, chuir i crìoch air sreath de thrì leabhraichean airson inbheach òga, An t-Ionnsachadh Bòidheach (Acair) agus air an leabhar chloinne aice, Òran mo Sheanair, a chaidh fhoillseachadh san Dùbhlachd 2020. Tha i an-dràsta ag obair mar neach-rannsachaidh dha Mac TV.
Catriona Lexy Campbell born was in 1982 on the Isle of Lewis but has spent much of her life in Plockton, Lochalsh. She has worked as a theatre artist, actor and writer for many years, primarily in her native Gaelic. She has published five novels, a variety of poems and two plays, Doras Dùinte (2014) and Shrapnel: The Play. She was the first Gaelic Associate Artist with the National Theatre of Scotland in 2011 and her first radio play for the BBC, based on her novel Samhraidhean Dìomhair, was broadcast in December 2012. She was the Writer-in-Residence at Sabhal Mòr Ostaig in 2013. Doras Dùinte was produced by Theatre Galore and toured in 2014. In 2015, she completed her stage adaptation of her father Tormod Caimbeul's novel, Shrapnel (Theatre Gu Leòr, 2016), which then toured across Scotland in 2016. She has recently completed her trilogy for young adults, An t-Ionnsachadh Bòidheach (Acair) and her children's book, Òran mo Sheanair, was published in December 2020. She currently works as a researcher with Mac TV.