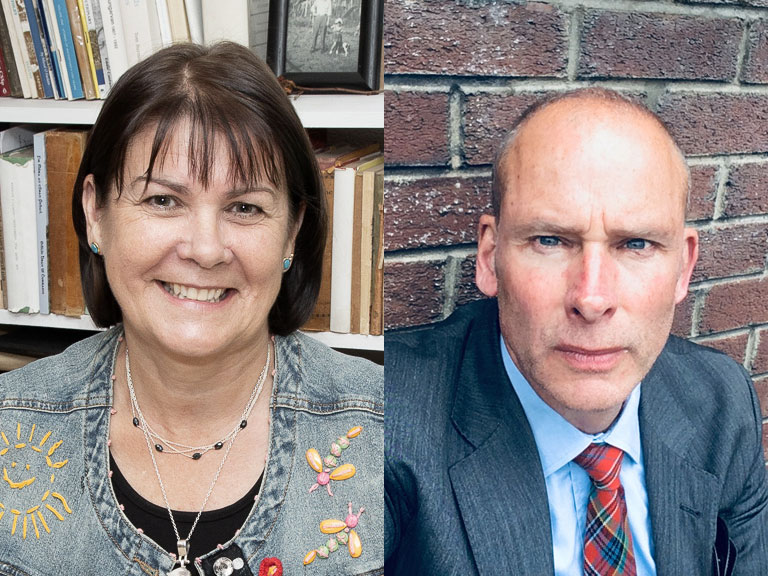 Áine Uí Fhoghlú &
Iain Mac a' Phearsain
Áine Uí Fhoghlú & Iain Mac a' Phearsain
Available here from 5.0

0

pm
readings will automatically load at the scheduled time. if your browser is having difficulties, simply reload the page.
Rugadh Áine Uí Fhoghlú i Londain, Sasana i 1959 agus tá cónaí uirthi i nGaeltacht na Rinne as a hóige. Bhain sí amach bunchéim sa Ghaeilge agus an Léann Dúchais le Coláiste na hOllscoile, Corcaigh agus níos déanaí bronnadh céim MPhil uirthi as a cuid taighde ar dheilbhíocht chanúint na nDéise. Tá trí chnuasach filíochta foilsithe aici, trí scéal ficsin do dhaoine fásta agus dhá scéal ficsin do dhéagóirí. D'fhoilsigh sí mórshaothar neamhfhicsin dar teideal Scéalta agus Seanchas – Potatoes, Children & Seaweed i 2019. Tá altanna taighde léi foilsithe i bhfoilseacháin éagsúla. Tá duaiseanna, coimisiúin agus sparánachtaí buaite aici, ina measc Duais Filíochta Mhícheál Ó hAirtnéide, Duais Ghaeilge Bhéal na mBuillí, agus duaiseanna Liteartha an Oireachtais. Tá scéal ficsin léi do dhéagóirí óga le foilsiú ag Cló Iar-Chonnacht i 2021 agus tá Sparánacht Litríocht na Gaeilge díreach bronnta ag An Chomhairle Ealaíon uirthi chun taighde a dhéanamh don cheathrú cnuasach filíochta ar a bhfuil sí ag obair faoi láthair.
Áine Uí Fhoghlú was born in London in 1959 and has lived in the Ring Gaeltacht, Co Waterford, since early childhood. She studied Irish and Cognate Studies at University College Cork and was later awarded an MPhil degree for her linguistic research into the Déise dialect of Irish. Published works include three collections of poetry, three books of adult fiction, and two books of teenage fiction. She has also published a major work of non-fiction, Scéalta agus Seanchas – Potatoes, Children & Seaweed (2019). She has won many awards for her writing, including the Michael Hartnett Poetry Award, the Strokestown Duais na Gaeilge Prize, and Oireachtas na Gaeilge Literary Awards. Her latest young teenage fiction is due to be published by Cló Iar-Chonnacht in 2021 and she has just been awarded the Arts Council's Irish Language Literature Bursary to research and write her fourth collection of poetry, on which she is currently working.
Rugadh Iain Mac a' Phearsain ann an Edmonton ann an 1965 agus thogadh e air prèiridh Chanada ann an teaghlach clas-obrach dùthchail le ceanglaichean ri Ìle, Muile agus ris an Eilean Sgitheanach. Eadar Gàidhealtachd na h-Alba agus Èirinn a Tuath, tha e air a bhith na òraidiche oilthigh agus na neach-rannsachaidh airson còrr is fichead bliadhna, agus e an-dràsta a' fuireach ann am Beul Feirste fhad 's a bhios e ag obair aig a' cholaiste Ghàidhlig Sabhal Mòr Ostaig, pàirt de dh'Oilthigh na Gàidhealtachd agus nan Eilean.
Bidh e a' sgrìobhadh bàrdachd agus rosg ann an Gàidhlig, Beurla agus Fraingis, agus tha e a' faireachdainn gu bheil a dhìlseachd dhan Ghàidhlig a' toirt leatha co-fhaireachdainn dha mion-chànanan agus mion-chultaran eile. Tha a' bhàrdachd aige air nochdadh ann an New Writing Scotland, ann an cruinneachaidhean leabhraichean pòcaid mar Wish I Was Here, agus ann an Struileag: Shore to Shore, cruinneachadh de bhàrdachd agus teacsaichean bhon diaspora Ghàidhlig (Polygon, 2015). A bharrachd air sin, tha e air a bhith an sàs gu proifeiseanta ann an sgrìobhadh, eadar-theangachadh, craoladh agus dèanamh fhilmichean bho thàinig e a dh'fhuireach an Alba ann an 1996. Fhuair am foillseachadh aige,  An Leabhar Liath, a chaidh a dheasachadh agus eadar-theangachadh còmhla ri Pàdraig MacAoidh, duais Comann Crann na h-Alba airson an Leabhar-rannsachaidh as Fheàrr an 2017, còmhla ri Duais Donald Meek airson an Leabhair Ghàidhlig as Fheàrr ann an 2016, fhad 's  a bha am film aige, Cabin on the Prairies, air a' gheàrr-liosta airson am Film Aithriseach as Fheàrr aig Fèis nam Meadhanan Ceilteach ann an 2010.
Iain Mac a' Phearsain (Iain MacPherson) was born in Edmonton in 1965 and raised on the Canadian prairie in a rural working-class family with Islay, Mull and Isle of Skye connections. Between the Highlands of Scotland and Northern Ireland, he has been a university lecturer and researcher for more than twenty years, and currently lives in Belfast whilst working for the Gaelic college Sabhal Mòr Ostaig, part of The University of the Highlands and Islands.
He writes poetry and prose in Gaelic, English and French, and feels that his commitment to Gaelic implies sympathy for other minority languages and cultures. His poetry has appeared in New Writing Scotland , in pocketbooks anthologies such as Wish I Was Here, and in Struileag: Shore to Shore, a collection of poetry and texts from the Gaelic diaspora (Polygon, 2015). In addition, he has been involved professionally in writing, translating, broadcasting and filmmaking since he came to live in Scotland in 1996. His publication, The Light Blue Book, edited and translated with Peter Mackay, was awarded The Saltire Society Award for Best Research Book of 2017, along with The Donald Meek Award for Best Gaelic Book of 2016; while his film Cabin on the Prairies was shortlisted for Best Documentary Film at the Celtic Media Festival in 2010.