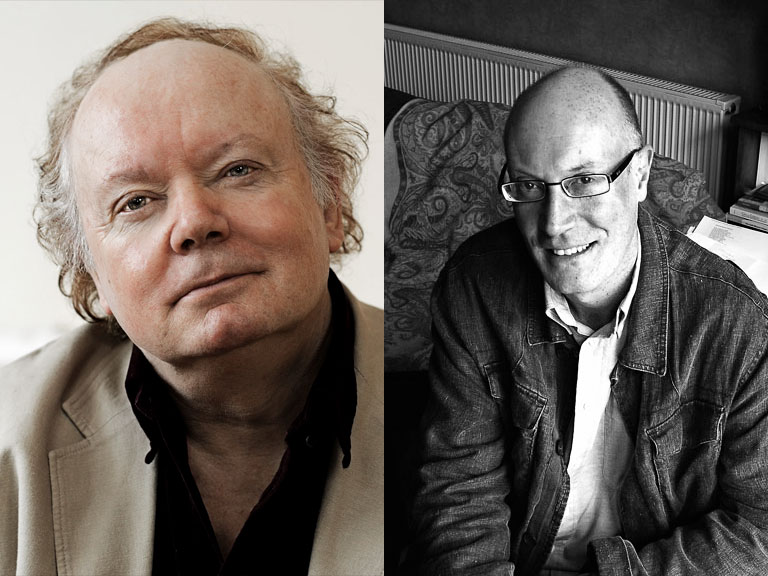 Alan Titley &
David Kinloch
Alan Titley & David Kinloch
Available here from 9.3

0

pm
readings will automatically load at the scheduled time. if your browser is having difficulties, simply reload the page.
Údar ar naoi úrscéal, trí chnuasach scéalta agus dhá chnuasach filíochta, chomh maith le scata drámaí, aistriúcháin liteartha agus leabhair scolártha, rugadh Alan Titley i gCorcaigh sa bhliain 1947. Dhein sé traenáil mar bhunmhúinteoir i gColáiste Phádraig, Drom Chonrach, Baile Átha Cliath, ag caitheamh dhá bhliain ina dhiaidh sin ag múineadh i gColáiste Oideachais sa Nígéir le linn an chogaidh le Biafra, agus é ag taisteal trí mhórchuid d'iarthar na hAfraice ag an tráth sin. Ar filleadh dhó ar Éirinn chríochnaigh sé céim BA istoíche le Coláiste na hOllscoile, BÁC sna hábhair Gaeilge, Béarla agus Fealsúnacht, ag déanamh céim MA sa Ghaeilge níos déanaí, i 1974. Sa bhliain chéanna ceapadh é ina Léachtóir le Gaeilge ag Coláiste Phádraig, áit ar bhain sé amach post mar Cheann Roinne sa bhliain 1981, go dtí gur ghlac sé le post mar Ollamh le NuaGhaeilge ag Coláiste na hOllscoile, Corcaigh i 2006, ag dul ar scor sa bhliain 2011.
Tá roinnt mhaith duaiseanna liteartha ón Oireachtas bainte amach aige i seánraí éagsúla (úrscéal, gearrscéalta, aiste fealsúnachta, drámaí agus filíocht) agus deineadh a chuid scéalta agus drámaí a aistriú go Gearmáinis, Arabais, Cróitis, Rúisis, Gàidhlig, Fraincis, Iodáilis, Bulgáiris, Béarla agus Polainnis. D'fhoilsigh Yale University Press The Dirty Dust, a aistriúchán mór le rá ar Cré na Cille le Máirtín Ó Cadhain agus The Dregs of the Day, leagan Béarla den nóibhille Fuíoll Fuine leis an gCadhnach. Is iad a dhá chnuasach téagartha filíochta ná  Rabhadh: Dánta agus …liricí gearra. Bíonn colún seachtainiúil á scríobh aige don Irish Times ó 2003 agus tá sé ina chónaí i mBaile Átha Cliath.
Author of nine novels, three collections of stories, two collections of poetry as well as numerous plays, literary translations and scholarly books, Alan Titley was born in Cork in 1947. He trained as a primary school teacher at St Patrick's College, Drumcondra, Dublin, after which he spent two years teaching in a College of Education in Nigeria during the war against Biafra, travelling through much of West Africa at that period. On return he completed BA degree at night in UCD, taking Irish, English and Philosophy, and later an MA in Irish in 1974. In the same year, he was appointed as Lecturer in Irish at St Patrick's College, where he became Head of Department in 1981, until  becoming Professor of Modern Irish at University College Cork in 2006, retiring in 2011.
He has been the recipient of several Oireachtas literary prizes in various genres (novel, short stories, philosophical essay, plays and poetry) and his stories and plays have been translated into German, Arabic, Croatian, Russian, Gaelic, French, Italian, Bulgarian, English and Polish. Yale University Press published his celebrated translation of Máirtín Ó Cadhain's classic novel Cré na Cille (The Dirty Dust, 2016), and also The Dregs of the Day, a translation of Ó Cadhain's novella Fuíoll Fuine.  His two substantial collections of poetry are Rabhadh: Dánta  (Warning: Poems) and …liricí gearra  (…tiny little lyrics). He has been writing a weekly column for The Irish Times since 2003, and lives in Dublin.
David Kinloch was born, brought up and educated in Glasgow. He is the author of six collections of poetry, mostly published by Carcanet Press, the latest being In Search of Dustie-Fute (2017), which was shortlisted for the Saltire Prize in Scotland. He has degrees in French and English from the Universities of Glasgow and Oxford and spent much of his working life as a teacher of French at university level. In 2003, he changed course to focus on the teaching of  creative writing and, after retiring in 2019, is now Emeritus Professor of Poetry and Creative Writing at the University of Strathclyde, Glasgow.
In addition to his collections of poetry, he is the author of a monograph on the French writer  Joseph Joubert, a number of edited books and many papers on a variety of French and Scottish writers including Mallarmé, Edwin Morgan and Hugh MacDiarmid. In 1983, he co-founded the literary journal, Verse, with Robert Crawford and Henry Hart and co-edited it with them for the next ten years. In 2008, he helped found the Scottish Writers Centre, and also launched the inaugural Edwin Morgan International Poetry Competition, now the Edwin Morgan Poetry Award, which he administers as the current Chair of The Edwin Morgan Trust. He continues to live in Glasgow.