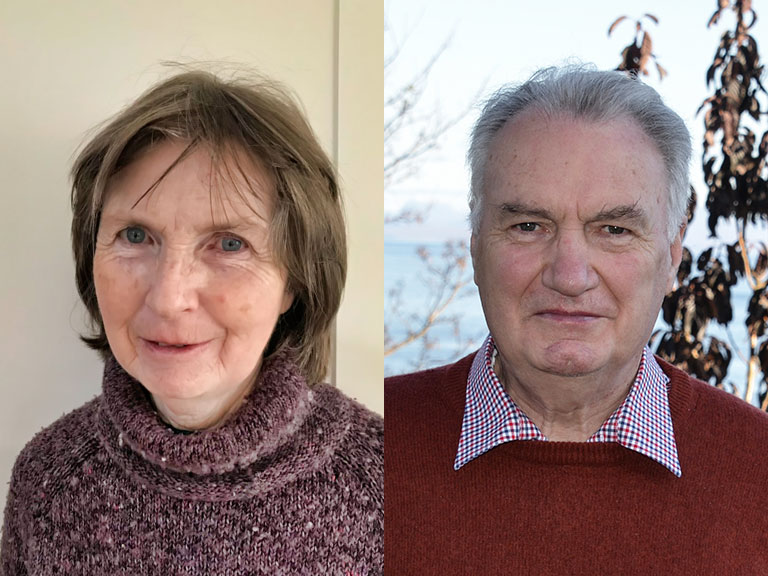 Biddy Jenkinson &
Maoilios Caimbeul
Biddy Jenkinson & Maoilios Caimbeul
Available here from 8.3

0

pm
readings will automatically load at the scheduled time. if your browser is having difficulties, simply reload the page.
File, gearrscéalaí agus drámadóir, rugadh Biddy Jenkinson (ainm cleite) sa bhliain 1949 i mBaile Átha Cliath agus d'fhreastail sí ar Choláiste na hOllscoile, Corcaigh. Tá ocht gcnuasach filíochta scríofa aici – an ceann is déanaí Sceilg na Scál (Coiscéim, 2017) – chomh maith le trí chnuasach gearrscéalta agus dhá dhráma.
Fúithi féin tá scríofa aici, sa triú phearsa: "Thuig Jenkinson riamh go bhfuil a cumas scríofa leochaileach agus go bhféadfaidh go mhúchfaí í dá ligfeadh sí solas an lae isteach ina cillín cloiche dorcha mar a chumann sí a bhéarsaí ag déanamh aithris na seanfhilí, dream lena mhaíonn sí gaol gairid. Dhein sí cinneadh ainm cleite a ghlacadh chuici féin mar shlí chun fógairt nach bhfuil aon rud a scríobhann sí bainteach lena beathaisnéis féin agus gur cheart a bheith beagán amhrasach faoi gach a deireann sí agus gach a deirtear fúithi."In áit eile tá sé ráite aici: " B'fhearr liom nach ndéanfaí mo shaothar a aistriú go Béarla in Éirinn. Is comhartha beag drochbhéasach é seo chucu siúd a cheapann gur féidir gach rud a bhaint is a stóráil gan chailliúint ar bith in Éirinn an Bhéarla. Dá mba traonach mé ní bhraithfinn aon  cheangal orm ligint dóibh mo sheithe a leasú is mo chorp a instealladh le formailin chun go bhféafainn seilf iarsmalainne a líonadh i ndomhan nach bhfeiceann go bhfuil mo leithéidse riachtanach." Tá sí anois ina cónaí i measc Shléibhte Chill Mhantáin.
A poet, short-story writer and dramatist, Biddy Jenkinson (a nom-de-plume) was born in 1949 in Dublin and attended University College Cork. She has published eight collections of poetry – most recently, Sceilg na Scál (Coiscéim, 2017) –  three collections of stories, and two plays.
Of herself she has glossed, in the third person: "Jenkinson has always been aware that her ability to write is evanescent and would be snuffed out if she let the daylight into the dark stone cell where she concocts her verses in imitation of the filí, from whom she claims descent.  She decided to adopt a nom-de-plume as a way of announcing that nothing she writes is confessional and that nothing she says and everything said of her is to be taken with a grain of salt." Elsewhere, she has stated: "I would prefer not to be translated into English in Ireland. It is a small rude gesture to those who think that everything can be harvested and stored without loss in an English-speaking Ireland. If I were a corncrake I would feel no obligation to have my skin cured, my torso injected with formalin so that I could fill a museum shelf in a world that saw no need for my kind." She now lives in the Co Wicklow Hills.
Rugadh am bàrd, nobhailiche agus sgrìobhadair chloinne, Maoilios Caimbeul ann an 1944 ann an Stafain san Eilean Sgitheanach. Air sgàth nàdar taistealach obair athar, fhuair e a chuid foghlaim ann an grunn sgoiltean. Dh'ionnsaich e seòladaireachd airson dà bhliadhna ann an Colaiste a' Chaisteil an Steòrnabhagh mus deach e gu muir domhainn aig aois sia blaidhna deug. Dh'fhàg e a' mhuir às deidh trì bliadhna gu leth agus bha e ann an diofar obraichean mus deach e a dh'Oilthigh Dhùn Èideann airson ceum ann an Ceiltis, Beurla agus Eachdraidh anns na 1970n. Às dèidh sin thug e a-mach teisteanas teagaisg à Colaiste Trèanaidh Luchd-teagaisg Jordanhill. Rinn e teagasg an uair sin ann an àrd-sgoiltean Thobar Mhoire, Phort Rìgh agus Gheàrrloch airson 14 bliadhna, sgrìobh e làn-ùine airson greiseag, agus bha e na Oifigear Leasachaidh Gàidhlig le Bòrd Leasachaidh na Gàidhealtachd is nan Eilean airson dà bhliadhna. Nuair a leig e dheth a dhreuchd ann an 2002, dh'obraich e pàirt-ùine aig Sabhal Mòr Ostaig, Oilthigh na Gàidhealtachd agus nan Eilean, mar oide airson chùrsaichean goirid agus sgrìobhadh cruthachail. Bho 2012, tha e an sàs ann an sgrìobhadh, dearbhadh agus deasachadh.
Tha e air naoi nobhailean (airson gach cuid clann is inbhich) agus eachdraidh-beatha a sgrìobhadh, a bharrachd air naoi leabhraichean de dhàin. 'S iad an fheadhainn as ùire Breac-a'-Mhuiltein (Coiscéim, 2007), Tro Chloich na Sùla (Clàr, 2014), An Dà Anam (Clò Dhùnain, 2016) agus Gràs / Grace (Handsel Press, 2019). Ghabh e pàirt anns na cuairtean iomlaid cuimhneachail eadar bàird Ghàidhlig na h-Èireann is na h-Alba ("Turas na bhFilí") ann an 1984, 1989, 2005 agus 2011, agus bha e na Sgrìobhadair Còmhnaidh aig Sabhal Mòr Ostaig ann an 2008. Tha e fhathast a' fuireach ann an Stafain san Eilean Sgitheanach, aon de na h-eileanan as motha ann an Alba.
A poet, novelist and children's writer, Maoilios Caimbeul (Myles Campbell) was born in 1944 in Staffin, Isle of Skye. Because of the itinerant nature of his father's work, his earlier education was in several schools. He studied Navigation for two years in Lews Castle College, Stornoway, before going deep sea at the age of sixteen. He left the sea after three and a half years and was in a variety of jobs before going to Edinburgh University for a degree in Celtic, English and History in the 1970s, subsequently receiving his teaching qualification from Jordanhill Teacher Training College. He then taught in high schools (Tobermory, Portree and Gairloch) for 14 years, wrote full time for a period, and was Gaelic Development Officer with the Highlands and Islands Development Board for two years. When he retired from teaching in 2002, he worked part-time at the Gaelic-medium college, Sabhal Mòr Ostaig, The University of Highlands and Islands, as a tutor for short courses and creative writing. Since 2012, he has been writing, proofing and editing.
He is the author of nine novels (for both children and adults) and a biography, as well as nine books of poems, most recently Breac-a'-Mhuiltein (Coiscéim, 2007),  Tro Chloich na Sùla (Clàr, 2014); An Dà Anam (Clò Dhùnain, 2016); and Gràs/Grace (Handsel Press, 2019). He participated in the memorable exchange visits by Irish and Scottish poets ("Turas na bhFilí") in 1984, 1989, 2005 and 2011, and was Writer-in-Residence at Sabhal Mòr Ostaig in 2008. He continues to live in Staffin, on Skye, one of Scotland's largest islands.