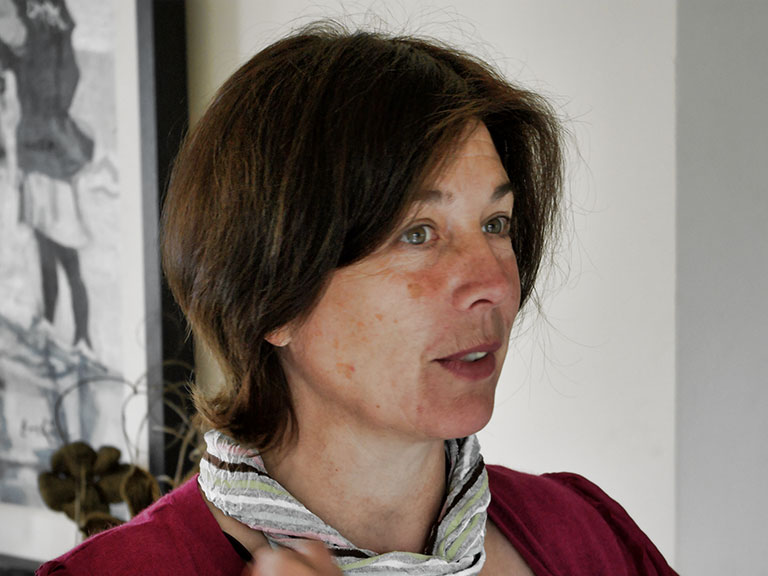 Ceaití
Ní Bheildiúin
Ceaití Ní Bheildiúin
Available here from 1.0

0

pm
readings will automatically load at the scheduled time. if your browser is having difficulties, simply reload the page.
Saolaíodh Ceaití Ní Bheildiúin (Cathi Weldon), duine de dheichniúir leanaí, i Ros Eo, tuaisceart chontae Bhaile Átha Cliath, i 1958. Chuir sí roimpi féin an Ghaeilge a fhoghlaim nuair a bhraith sí teanntaithe i bpost cléireachais sa státseirbhís. Thuig sí de gheit is í sna fichidí, go raibh sé ar a cumas an teanga a shealbhú, rud nár bhraith sí is í ar scoil. Leis sin shamhlaigh sí deiseanna nua di féin agus ráinigh sí bheith ina hoide bunscoile. Is minic, i ndiaidh tréimhsí d'obair eile, a chas sí ar ais chuig an múinteoireacht agus chuig a luí le leanaí. D'fhreastal sí go páirt-aimseartha ar an scoil ealaíne i nDún Laoghaire. Níos déanaí, d'oil sí agus shaothraigh sí mar innealtóir fuaime, mar dhéantóir scannán triallach agus mar eagarthóir fuaime ar fhad-scannáin. Sa bhliain 2003, bhog Ní Bheildiúin go dtí Gaeltacht Chorca Dhuibhne, ag uchtú teanga na Gaeltachta mar a príomhtheanga, ag obair chun líofacht a bhaint amach inti, agus thosnaigh sí ag scríobh. Foilsíodh ceithre chnuasach filíochta dá cuid agus stáitsíodh dhá ghearrdhráma a scríobh sí. Ghnóthaigh  an cnuasach filíochta is déanaí uaithi, Agallamh sa Cheo, Cnoc Bhréanainn 52.2352°T, 10.2544°I (Coiscéim 2019), Duais an Oireachtais 2018, agus bhuaigh An Teorann Bheo (Coiscéim 2007) an chéad chnuasach dá cuid, duais Oireachtais 2007 don gcéad chnuasach is fearr. Cónaíonn sí i bParóiste Múrach, Co. Chiarraí.
Ceaití Ní Bheildiúin (Cathi Weldon) was born in Rush, Co Dublin, one of ten children, in 1958. Her journey to the Irish language began with a desire to escape a clerical civil service job. Her realisation that she had the facility to learn Irish, something not apparent at school, then allowed her to train as a primary teacher, an occupation which indulged her love of children. She also studied part-time at the Dun Laoghaire College of Art and Design and later trained and worked as a sound engineer, an experimental film-maker and a post-production sound editor on feature films. On moving to the West Kerry Gaeltacht in 2003, she adopted the local Irish as her primary tongue, working on her fluency and starting to write in Irish. She has had four volumes of Irish poetry published and two short Irish dramas staged. Her latest collection, Agallamh sa Cheo, Cnoc Bhréanainn 52.2352°T, 10.2544°I (Coiscéim, 2019), won the Oireachtas Prize in 2018 for the year's best collection, as did her first collection An Teorainn Bheo (Coiscéim, 2007), for the year's best first collection. She now lives in Baile na nGall, Co Kerry.