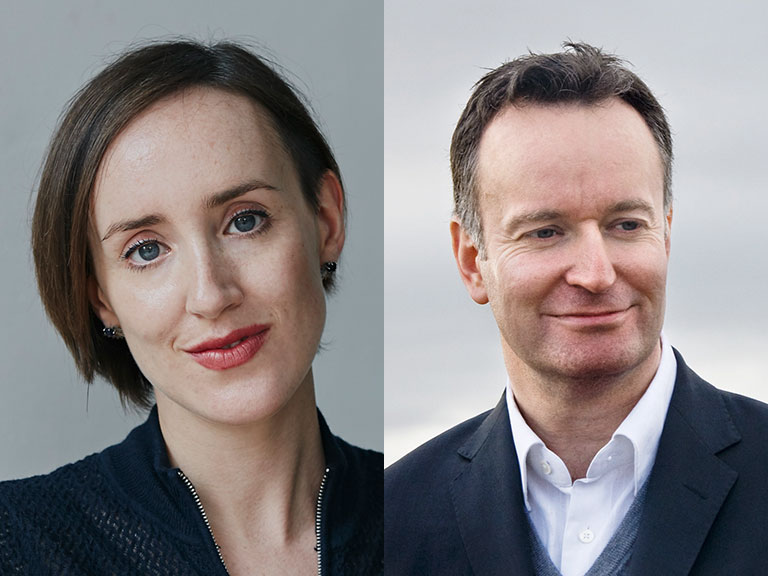 Jessica Traynor &
Andrew O'Hagan
Jessica Traynor & Andrew O'Hagan
Available here from 9.3

0

pm
readings will automatically load at the scheduled time. if your browser is having difficulties, simply

reload

the page.
A poet, dramaturg and creative writing teacher, Jessica Traynor was born in 1984 and raised in Dublin. Her debut collection, Liffey Swim (The Dedalus Press, 2014), was shortlisted for the Strong/Shine Award, and her second collection, The Quick, also from Dedalus, was published in 2018. She was awarded an Ireland Chair of Poetry Bursary in 2014, before working as Literary Manager at the Abbey Theatre between 2015 and 2017 and subsequently as Deputy Director of EPIC: The Irish Emigration Museum, in Dublin. She regularly reviews poetry for RTÉ's Arena and  Poetry Ireland Review and, in 2019,  co-edited Correspondences: an anthology to call for an end to direct provision with the actor Stephen Rea, bringing together asylum-seekers in Ireland's direct provision system with concerned writers. She is currently an inaugural Creative Fellow of University College Dublin, where she completed her MA in Creative Writing in 2008, following her first degree in English with History from Trinity College Dublin.
Andrew O'Hagan was born in Glasgow in 1968. He attended the University of Strathclyde and went on to join the editorial team at the London Review of Books. He is now that paper's Editor at Large, and has also been a contributor, both of fiction and non-fiction, to Esquire Magazine and The New Yorker. As a novelist, O'Hagan has three times been nominated for the Booker Prize. His books include The Missing, Our Fathers, Be Near Me, and his latest, Mayflies, all published by Faber & Faber. He lives in London and Edinburgh.