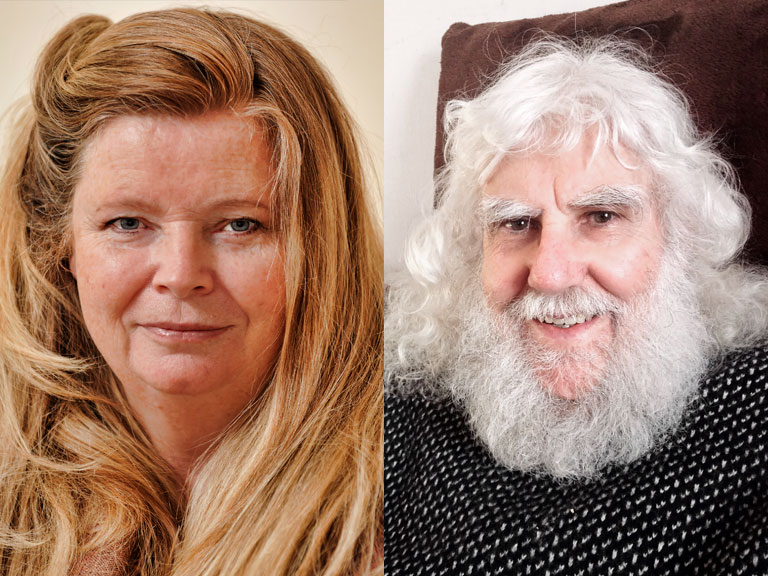 Nuala Ní Dhomhnaill &
Aonghas Dubh MacNeacail
Nuala Ní Dhomhnaill & Angus Dubh MacNeacail
Available here from 7.3

0

pm
readings will automatically load at the scheduled time. if your browser is having difficulties, simply reload the page.
Duine de mhórfhilí na hÉireann, rugadh Nuala Ní Dhómhnaill i Lancashire, Sasana sa bhliain 1952 agus tógadh í idir Gaeltacht Chorca Dhuibhne agus Aonach Urmhumhan, Co. Tiobraid Árann. Ba údarás ar Ghaeilge na Mumhan a huncail, an  tOllamh Pádraig Ó Fiannachta ón mBaile Mór, An Daingean ar cheann de na húdaráis is mó de chuid an 20ú Chéad chomh fada is a bhaineann leis an teanga Ghaeilge. Dhein sí staidéar ar Bhéarla agus Gaeilge ag Coláiste na hOllscoile, Corcaigh agus bhí sí mar bhall d'fhilí "Innti" le linn na 1970í. Sa bhliain 1973 phós sí an geolaí Turcach Dogan Leflef agus chaitheadar seacht mbliana thar lear, ag cur fúthu sa Tuirc agus san Ísiltír.
Tá sí ina húdar ar ocht gcnuasach filíochta (cuid acu dátheangach), an ceann is déanaí Northern Lights (The Gallery Press, 2018). Scríobhann sí filíocht as Gaeilge amháin agus tá sé ráite aici faoin teanga: "Irish is a language of beauty, historical significance, ancient roots and an immense propensity for poetic expression through its everyday use." Labhraíonn sí Tuircis, Fraincis, Gearmáinis agus Dúitsis agus (anuas ar Bhéarla) tá a saothar aistrithe go  Fraincis, Gearmáinis, Pollainis, Iodáilis, Ioruais, Eastóinis agus Seapáinis. Bhí sí ina hOllamh Éireann le Filíocht ó 2001 go 2004. Tá sí ina cónaí taobh amuigh de Bhaile Átha Cliath.
One of Ireland's most distinguished poets, Nuala Ní Dhomhnaill was born in Lancashire, England in 1952 and grew up in the Dingle Gaeltacht and in Nenagh, Co Tipperary. Her uncle, Professor Pádraig Ó Fiannachta of Dingle, was one of the leading twentieth-century authorities on the Irish language. She studied English and Irish at University College Cork, and became part of the "Innti" group of poets in the 1970s. In 1973, she married Turkish geologist Dogan Leflef and lived abroad in Turkey and Holland for seven years.
She is the author of eight collections of poetry (including several bilingual volumes), most recently Northern Lights (The Gallery Press, 2018). She writes poetry exclusively in Irish and has said of the language: "Irish is a language of beauty, historical significance, ancient roots and an immense propensity for poetic expression through its everyday use." She also speaks Turkish, French, German and Dutch, and (in addition to English) her work has been translated into French, German, Polish, Italian, Norwegian, Estonian, and Japanese. She was Ireland Professor of Poetry from 2001 to 2004, and now lives near Dublin.
Tha Aonghas MacNeacail, a rugadh ann an 1942, air aon de phrìomh bhàird na h-Alba. A bharrachd air sin, 's e neach-naidheachd, craoladair, sgrìobhadair sgriobt, librettist, eadar-theangaiche agus sgrìobhadair òrain a th' ann. B' e Gàidhlig  a' chiad chànan aige, is e air a thogail san Eilean Sgitheanach, ach bidh e a' sgrìobhadh ann am Beurla agus uaireannan ann am Beurla Ghallda cho math ris a' Ghàidhlig. Chaidh na 11 cruinneachaidhean bàrdachd aige fhoillseachadh anns an dà chànan, agus tha an sgrìobhadh aige air nochdadh ann an irisean litreachais air feadh an t-saoghail. Bidh e a' craoladh gu cunbhalach air rèidio agus TBh. Tha e air leughaidhean bàrdachd a thoirt seachad aig prìomh fhèisean litreachais air feadh na cruinne – anns an Ruis, Iapan, a' Phòlainn, Israel, na SA, Canada, agus air feadh taobh an iar na Roinn Eòrpa. Chaidh an obair aige eadar-theangachadh gu iomadh cànan, nam measg Gearmailtis, Eadailtis, Gaeilge, Fraingis, Eabhra, Fionnlannais agus Serbo-Croat. Choisinn e duais chliùiteach Stakis airson Sgrìobhadair Albannach na Bliadhna leis an treas cruinneachadh aige, Oideachadh Ceart agus Dàin Eile (A Proper Schooling and Other Poems, 1996). Tha e air trì Bursaraidhean Sgrìobhadairean Comhairle Ealain na h-Alba fhaighinn, agus fhuair e Sgoilearachd Siubhail Comann nan Ùghdaran ann an 2003. Mar sgrìobhadair òrain agus librettist stèidhichte, tha e air co-obrachadh, an dà chuid san nòs dhùthchail agus chlasaigeach, còmhla ri prìomh sgrìobhadairean-ciùil na h-Alba, nam measg, Phil Coineagan, Dòmhnall Seathach, Uilleam Sweeney agus Ronald Stevenson. Tha e a' fuireach còmhla ris a' bhàrd Gerda Stevenson ann an Carlops, faisg air Penicuik, ann an Crìochan na h-Alba.
Aonghas MacNeacail is one of Scotland's leading poets. He is also a journalist, broadcaster, scriptwriter, librettist, translator, and songwriter. A native Gael from Skye, he writes in Gaelic and English (and occasionally in Scots). His 11 collections of poetry have been published in both languages, and his writing has appeared in literary journals all over the world. He broadcasts regularly on radio and TV. He has given poetry readings at major literary festivals across the globe –  in Russia, Japan, Poland, Israel, the USA, Canada, and throughout Western Europe. His work has been translated into many languages, including German, Italian, Irish, French, Hebrew, Finnish and Serbo-Croat. He won the prestigious Scottish Writer of the Year Stakis Prize with his third collection, Oideachadh Ceart agus Dàin Eile  (A Proper Schooling and Other Poems, 1996). He has received three Scottish Arts Council Writers' Bursaries, and was awarded a Society of Authors Travelling Scholarship in 2003. As an established lyricist and librettist, he has collaborated, in both folk and classical idioms, with many of Scotland's top composers, including Phil Cunningham, Donald Shaw, William Sweeney and Ronald Stevenson. He lives with the poet Gerda Stevenson in Carlops, near Penicuik, in the Scottish Borders.