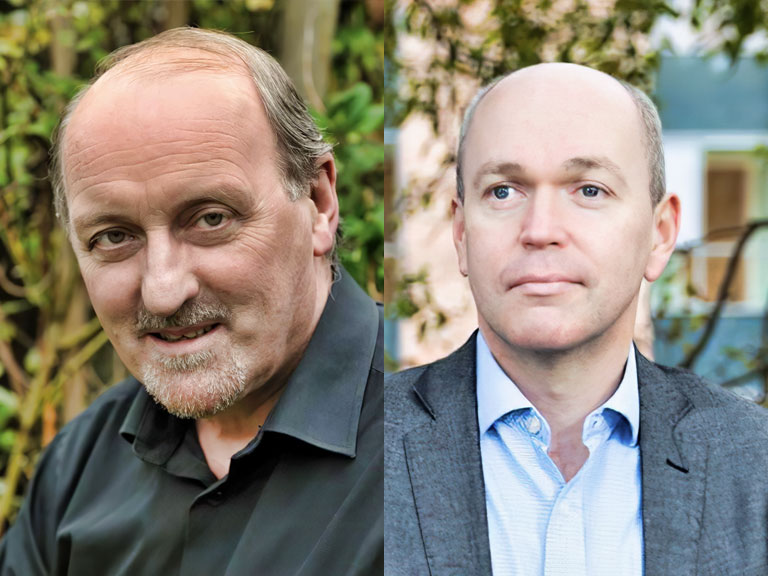 Pádraig MacFhearghusa & GilleBrìghde Mac 'ille Mhaoil
Pádraig MacFhearghusa & GilleBrìghde Mac 'ille Mhaoil
Available here from 2.0

0

pm
readings will automatically load at the scheduled time. if your browser is having difficulties, simply reload the page.
I mBéal Átha Fhínín in Iarthar Chorcaí a saolaíodh Pádraig Mac Fhearghusa, áit a raibh a athair ina Gharda Síochána. Cháiligh sé mar mhúinteoir bunscoile i gColáiste Phádraig i nDroim Conrach i 1967, agus rinne B.A. istoíche i nGaeilge, Stair agus Fealsúnacht i gColáiste na hOllscoile, Baile Átha Cliath. Ghnóthaigh sé Ard-Dioplóma Oideachais i gColáiste na Tríonóide i 1971, agus tar éis tréimhsí ag múineadh bunscoile i mBaile Átha Cliath agus i mBaile an Easpaig, Corcaigh, chaith sé ceithre bliana déag ag múineadh Staire agus Gaeilge i Meánscoil an Leitriúigh, Clochán Bhréanainn, Ciarraí. Chaith sé breis agus scór bliain mar eagarthóir ar an iris mhíosúil, Feasta, agus bhí ina Uachtarán ar Chonradh na Gaeilge (2008 – 2011).
Tá saothrú suntasach déanta aige ar an bhfilíocht ó d'fhoilsigh an Clóchomhar Tta a chéad chnuasach, Faoi Léigear, i 1980. Bhain Nótaí Treallchogaíochta ó Suburbia an chéad duais sa chomórtas oscailte filíochta, Béarla / Gaeilge, ag Seachtain na Scríbhneoirí i Lios Tuathail i 1982. Ghnóthaigh Mearcair príomhdhuais filíochta Oireachtas na Gaeilge i 1996, agus bhain dánta as An Dara Bás príomhdhuais na bliana 2001. I measc na leabhar eile uaidh tá Conradh na Gaeilge i gCiarraí (1995) agus Tóraíocht an Mhíshonais, méar ar eolas ar Freud agus Jung (1997). Ghnóthaigh sé Duais Filíochta an Oireachtais arís in 2020, agus tá sé i mbun cnuasach nua faoi láthair. Cónaíonn sé i dTrá Lí, Co. Chiarraí.
Pádraig Mac Fhearghusa was born in Ballineen, West Cork, where his father was a member of An Garda Síochána. He attended St. Patrick's College, Drumcondra, qualified as a primary school teacher in 1967, and completed a BA at night in University College Dublin in Irish, History and Philosophy. He acquired a Higher Diploma in Education in Trinity College, Dublin, in 1971, and following a period as a primary school teacher in Dublin, and in Bishopstown, Cork, he taught History and Irish for fourteen years in Meánscoil an Leitriúigh, Co Kerry. For over twenty years, he was editor of the Irish-language monthly magazine, Feasta, and was president of Conradh na Gaeilge from 2008 – 2011.
He has made a distinctive contribution to poetry since An Clóchomhar published his first collection, Faoi Léigear, in 1980. Nótaí Treallchógaíochta ó Suburbia won first prize in the Open Poetry Competition, English / Irish, at Listowel Writers' Week in 1982. Mearcair (Coiscéim, 1996) and An Dara Bás (Coiscéim, 2002), were both awarded the Oireachtas Poetry Prize. Other publications include A History of Conradh na Gaeilge in Kerry (1995) and Tóraíocht an Mhíshonais (The Pursuit of Unhappiness), an Irish-language introduction to Freud and Jung (Coiscéim, 1997). He won the Oireachtas Poetry Prize again in 2020, and is working on a new collection at present. He lives in Tralee, Co Kerry.
GilleBrìghde Mac 'ille Mhaoil
Rugadh Gillebrìghde Mac 'ill Mhaoil ​ ann an Dalabrog, Uibhist a Deas, ann an 1978. B' e Gàidhlig a' chiad chànan aige agus cànan na coimhearsnachd mun cuairt air. Às dèidh dha foghlam fhaighinn anns an eilean, chaidh e a dh'Oilthigh Ghlaschu far an tug e a-mach ceum ann an Cruinn-eòlas agus Eòlas Ceilteis, agus an uairsin MA ann an Cultar Dùthchasach bho Oilthigh na Gàidhealtachd agus nan Eilean. Bha e a' fuireach ann an Galicia fad seachd bliadhna agus tha e fileanta ann an Gailìsis agus Spàinntis. Ann an 2010, thill e a dh'Alba agus bhon uair sin tha e air a bhith a' teagasg na Gàidhlig aig Oilthigh Ghlaschu. Ann an 2018, thug e a-mach clàr de na h-òrain aige fhèin, Hidden Roots. Tha e a-nis na dheasaiche air an iris litreachais, Steall. Tha e aithnichte cuideachd mar sheinneadair  tradaiseanta, sgrìobhadair sgeulachdan goirid agus eadar-theangaiche.
Gillebrìghde Mac 'ill Mhaoil (Gilbert MacMillan) was born in Daliburgh, South Uist in 1978. Gaelic was his first language and the language of the Uist community where he was raised. After his education on the island,  he attended the University of Glasgow and graduated with a degree in Geography and Celtic Studies, followed by an MA in Material Culture and the Environment from The University of the Highlands and Islands. He also lived in Galicia for seven years and is fluent in Galician and Spanish. In 2010, he returned to Scotland and since then has been teaching Gaelic at The University of Glasgow. In 2018, he released a critically acclaimed self-penned album, Hidden Roots. He is now the editor of the Gaelic literary journal, Steall. He is also well-known as a seán-nos singer, short-story writer and translator.