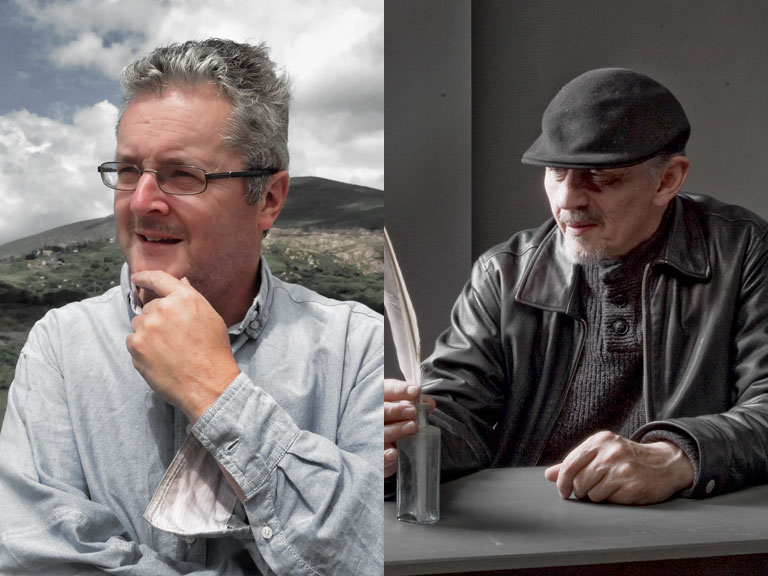 Peter Sirr &
Robert Alan Jamieson
Peter Sirr & Robert Alan Jamieson
Available here from 8.3

0

pm
readings will automatically load at the scheduled time. if your browser is having difficulties, simply reload the page.
Peter Sirr has published ten poetry collections, of which the most recent are The Gravity Wave (The Gallery Press, 2019: a Poetry Book Society Recommendation) and Sway (The Gallery Press, 2016: versions of poems from the troubadour tradition). The Rooms (The Gallery Press, 2014) was shortlisted for the Irish Times Poetry Now Award and the Pigott Poetry Prize. The Thing Is (2009) was awarded the Michael Hartnett Prize in 2011. His novel for children, Black Wreath, was published in 2014. His radio dramas are broadcast on RTÉ, the national broadcaster. He teaches literary translation in the Centre for Literary and Cultural Translation, Trinity College and is a member of Aosdána.
Born on Shetland in 1958, Robert Alan Jamieson is a poet and novelist based in Edinburgh, recently retired from the University of Edinburgh where he tutored Creative Writing for twenty years. Prior to that, he was co-editor of Edinburgh Review between 1993 and 1998, William Soutar Fellow 1993-1996, and Writer–in–Residence at the Universities of Glasgow and Strathclyde from 1998 to 2001. His major publications include five novels and fourcollections of poetry: Soor Hearts (Paul Harris, 1984); Thin Wealth (Polygon, 1986); Shoormal (Polygon, 1986); A Day At The Office (Polygon, 1991); Beyond The Far Haaf (Vanderbeek & Imrie, 1993); Nort Atlantik Drift (Luath, 2007); Da Happie Laand (Luath, 2010); macCloud Falls (Luath, 2017); the extraordinary Plague Clothes (Taproot, 2020), written as he recovered from Covid-19.