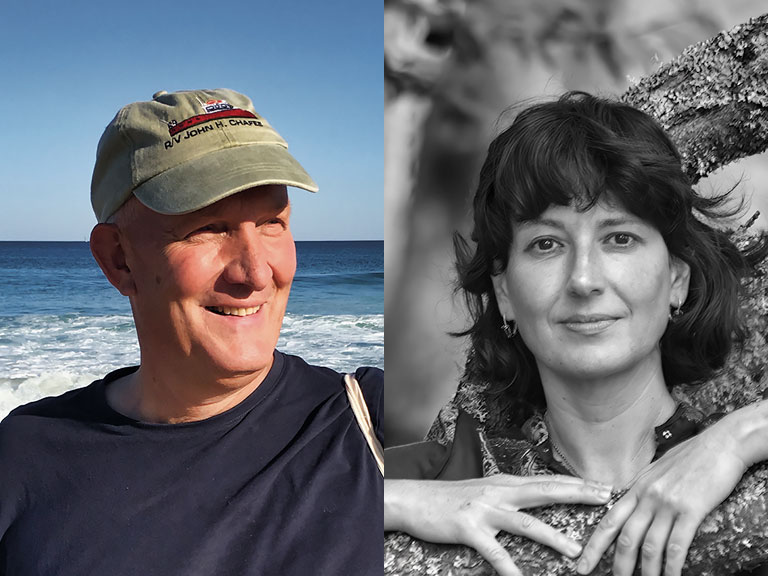 Chris Agee &
Kapka Kassabova
Chris Agee & Kapka Kassabova
Available here from 7.3

0

pm
readings will automatically load at the scheduled time. if your browser is having difficulties, simply reload the page.
Chris Agee is a poet, essayist, photographer and editor. He was born in San Francisco on a US Navy hospital ship and grew up in Massachusetts, New York and Rhode Island. After high school at Phillips Academy Andover and a year in Aix-en-Provence, France, he attended Harvard University and since graduation has lived in Ireland. His third collection of poems, Next to Nothing, was shortlisted in Britain for the 2009 Ted Hughes Award for New Work in Poetry, and its sequel, Blue Sandbar Moon (The Irish Pages Press), appeared in 2018. Of the latter, the novelist David Park has written: "I think it is a monumental work ranging across both the European landscape and the deepest inner worlds." His fifth poetic work, Trump Rant (The Irish Pages Press, 2021), has just been published. He is the Editor of Irish Pages, and edited Balkan Essays (The Irish Pages Press, 2016), the sixth volume of Hubert Butler's essays, published simultaneously in Croatian by the leading Zagreb publishing house Fraktura. He lives in Belfast, and divides his time between Ireland, Scotland and Croatia.
Kapka Kassabova is a writer of narrative non-fiction, poetry, and fiction. Her work explores the alchemy between places and people, geopolitical "peripheries", nexus of cultural confluence and conflict, and geographies both inner and outer. Border (2017, Saltire Scottish Book of the Year, Highlands Book Prize) and To The Lake (2020), both from Granta Books, explore the ancient trans-boundary human geography of the southern Balkans. Her ongoing work is set in the southern Balkans and the Highlands of Scotland. It takes even further her narrative journey into nature and culture, trauma and transformation. At the core of this work is the question: who are we, where do we belong, where are we going?
She was born in 1973 in Sofia, Bulgaria to scientist parents, and studied at the French Lycée in Sofia. Her family emigrated to New Zealand in 1992, where she studied French and Russian Literature at Otago University, and English Literature and Creative Writing at Victoria University of Wellington. While living in New Zealand, she published the poetry collections All roads lead to the sea and Dismemberment (both from Auckland University Press), and the novels Reconnaissance and Love in the Land of Midas (Penguin NZ). In 2005, she moved to Edinburgh, and now lives in Kilmorack, near Inverness, in the Scottish Highlands.