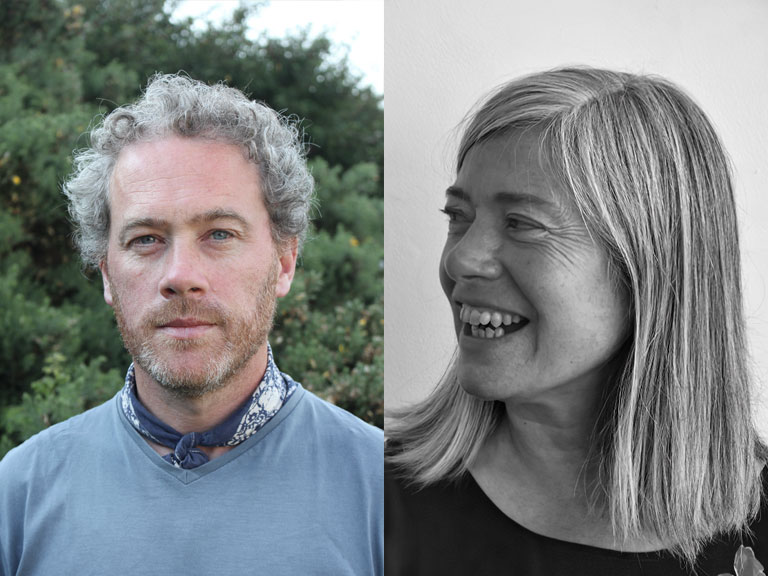 Simon Ó Faoláin &
Meg Bateman
Simon Ó Faoláin & Meg Bateman
Available here from 8.0

0

pm
readings will automatically load at the scheduled time. if your browser is having difficulties, simply

reload

the page.
Rugadh Simon Ó Faoláin i mBaile Átha Cliath agus tógadh é in Iarthar Dhuibhneach. Dhein sé staidéar ar an seandálaíocht agus chaith sé blianta fada ag obair sna hearnálacha tráchtála agus acadúla, é ina údar nó chomh-údar ar roinnt leabhar acadúil. Is scríbhneoir agus aistritheoir Gaeilge lán-aimseartha é anois. Tá trí leabhar filíochta foilsithe go dtí seo aige: Anam Mhadra (2008), As Gaineamh  (2011) agus Fé Sholas Luaineach (2014), iad go léir le Coiscéim, chomh maith le leabhrán maisithe, Baile do Bhí (Púca Press, 2014). Scríonn sé drámaí, prós gearr agus ábhar critice chomh maith. I measc na ngradam atá buaite aige dá chuid scríbhneoireachta tá Duais Glen Dimplex, Duais Strong, Duais Bhaitéar Uí Mhaicín, Duais Cholm Cille (fé dhó) agus Duais Foras na Gaeilge (ceithre bhabhta). An dá leabhar is déanaí uaidh ná An Corrmhíol, aistriúchán Gaeilge ar an dán fada Gàidhlig A' Mheanbhchuileag le Fearghas MacFionnlaigh foilsithe ag Coiscéim, agus An Fheadóg Fia, aistriúcháin ar dhánta an fhile Sínigh Jidi Majia. Tá sé ina stiúrthóir ar An Fhéile Bheag Filíochta, féile dhátheangach ealaíne bhliantúil ar an mBuailtín, Ciarraí Thiar, agus ina eagarthóir ar an iris liteartha Ghaeilge Aneas. Is amhránaí sean nóis aitheanta é le suim ar leith in amhráin an tsár-amhránaí Dhuibhnigh Seán de hÓra.
Simon Ó Faoláin was born in Dublin and raised in the Corca Dhuibhne Gaeltacht in Co Kerry. He trained as an archaeologist and for many years worked in the academic and commercial spheres, authoring and co-authoring several academic books. Now a full-time Irish-language writer and translator, he has published three books of poetry: Anam Mhadra (Dog's Soul, 2008), As Gaineamh (Out of Sand, 2011), and Fé Sholas Luaineach (By Unsteady Light, 2014), all from Coiscéim, as well as an illustrated chapbook, Baile do Bhí (A Home that Was, 2014, Púca Press). Amongst the awards for his work are the Glen Dimplex Prize, The Strong Prize, The Walter Macken Prize, The Colm Cille Prize (twice) and The Foras na Gaeilge Prize (four times). His latest two books are translations: An Corrmhíol (The Midge, Coiscéim), an Irish translation of the Scottish Gaelic long poem A' Mheanbhchuileag by Fearghas Mac Fionnlaigh; and An Fheadóg Fia (The Deer Whistle, Southword Imprints), translations from the Chinese poet Jidi Majia. He is Director of An Fhéile Bheag Filíochta, an annual bilingual poetry and arts festival in Baile an Fheirtéaraigh, and Editor of the Irish language literary journal Aneas. He is also a noted sean-nós singer with a particular interest in the songs of the great West Kerry singer Seán de hÓra.
Rugadh Meg Bateman an Dùn Èideann ann an 1959 agus dh'ionnsaich i Gàidhlig aig Oilthigh Obar Dheathain agus ann an Uibhist a Deas. Às dèidh dhi PhD ann am bàrdachd chràbhach Gàidhlig Chlasaigich a choileanadh, thòisich i a' teagasg aig Oilthigh Obar Dheathain bho 1991. An 1998, ghluais i dhan Eilean Sgitheanach còmhla ri a mac òg gus teagasg aig Sabhal Mòr Ostaig, a tha a-nis na phàirt de dh'Oilthigh na Gàidhealtachd agus nan Eilean.
Chaidh a' chiad chruinneachadh aice, Òrain Ghaoil ​​/ Amhráin Grádha (Love Songs) fhoillseachadh an 1990 le eadar-theangachaidhean gu Gaeilge le Alec Osborne. Chaidh na trì cruinneachaidhean eile aice, Aotromachd agus Dàin Eile / Lightness and Other Poems (1997), Soirbheas / Fair Wind (2007) agus Transparencies (2013) fhoillseachadh le Polygon, is am fear mu dheireadh a' toirt a-steach dhàn an dà chuid sa Ghàidhlig agus sa Bheurla. Tha i air còig cruinneachaidhean de bhàrdachd eachdraidheil a cho-dheasachadh agus eadar-theangachadh, agus tha i fhèin agus John Purser dìreach air leabhar-d fhoillseachadh, Window to the West: Culture and Environment in the Scottish Gàidhealtachd (2020). Tha i na deasaiche Gàidhlig do Irish Pages.
Meg Bateman was born in Edinburgh in 1959 and learned Gaelic at the University of Aberdeen and in South Uist. She completed a PhD in Classical Gaelic religious poetry and taught at Aberdeen University between 1991 and 1998. Then she moved to Skye with her young son to teach at the Gaelic college, Sabhal Mòr Ostaig, now part of the University of Highlands and Islands.
Her first collection of poems, Òrain Ghaoil/Amhráin Grádha, (Love Songs) was published by Coiscéim in 1990 with Irish translations by Alec Osborne. Her next three collections, Aotromachd agus Dàin Eile/Lightness and Other Poems (1997), Soirbheas/Fair Wind (2007) and Transparencies (2013) were all published by Polygon, the last including both Scottish Gaelic and English poems. She has co-edited and translated five anthologies of historical Gaelic verse and with John Purser, she has just completed the e-book, Window to the West: Culture and Environment in the Scottish Gàidhealtachd (2020). She is the Scottish Gaelic Editor of Irish Pages.